.A.S.A. enters the new year with new brand and a stable performance
The year 2014 showed distinctly how a company can profit from its regional diversity and international synergies. "Although the economic background in a lot of our countries has not been in our favour", states the CEO of FCC Environment CEE (formerly .A.S.A. Group) Björn Mittendorfer, "we have managed to achieve consolidated sales of 355,7 M EUR."
This result means a slight growth in comparison to the previous year. The growth was driven especially by Poland, in which we were able to double our collection area and have benefited from our new regional treatment plants in operation. Boosting commercial and industrial waste collection and disposal in Serbia contributed to historical results in this country and strengthened our market position.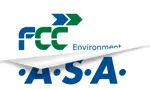 "In early 2015 we started to change our brand and logo ".A.S.A." to that of our parent company "FCC Environment". With this step we are now fully integrated in the FCC Group and will benefit from the global brand FCC", explains Mittendorfer.
.A.S.A. represents the environmental services and citizen services sectors of FCC in Central and Eastern Europe. By introducing FCC Environment in this area, FCC expresses the importance of .A.S.A. concerning their future development strategy, especially in connection with the internationalization process of the whole FCC Group. FCC's growing plans are focused on environmental services and water. .A.S.A.'s expertise reinforces that international development.