.A.S.A. company in Hungary won title of Business Superbrands©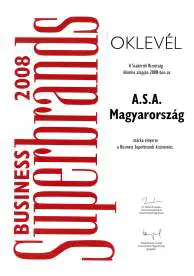 Our company, .A.S.A. Magyarország Ltd. won the title of Business Superbrands© in 2008.
It is not possible to apply for this title, an independent expert team decides who will win it and the concerned company is informed subsequently.
Superbrands© is the world's most important trademark building system which operates in 80 countries. Title of Superbrands© is attained in Europe by companies like Honda, Milka, Nivea, Mercedes, Velux, CIB Bank, IKEA, Herz, Discovery Chanel, book editor of Alexandra, Coca-Cola, Gösser, Vanish and Primagáz and so on.
In Hungary this program in B2B field was started in 2008, which chooses the best trademarks in the business area.
"Business Superbrand is the brand which made excellent reputation in its own area. Values linked to the brand offers emotional and/or evident advantages which are expected and recognised by the business members. A Business Superbrand stands for quality, reliability and excellence."