All-time record in 2007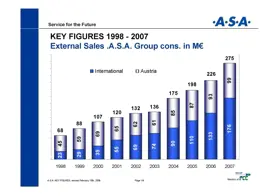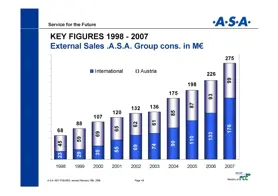 With a growth-rate of 22 %, from 226 to 275 mill. €, .A.S.A. has realized in 2007 the highest growth performance in its history.
Two-third of the growth are deriving from organic growth, one-third from acquisitions.
Besides the increase of all activities in the existing countries new markets could be conquered: .A.S.A. started operations in Serbia and Lithuania in 2007.
The number of employees increased from 2.962 to 3.540, the net-result also developed very well: since 11 years it is increasing yearly.