AWV Mürzverband has awarded .A.S.A. a waste paper collection contract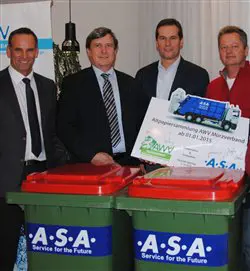 As part of a new tender, .A.S.A. was awarded a contract for collecting waste paper in 16 newly merged municipalities in Mürzverband. Every year 8.500 tons of waste paper will be collected from approximately 13.500 waiting bins and sent in for recycling.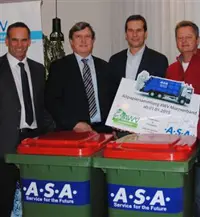 The managing director of AWV Mürzverband, Andreas Zöscher, appeared pleased. "Thanks to all the measures taken, a convenient and cost-effective service will be rendered for the purposes of community responsibility. Examining the degree to which the containers were filled showed that the emptying interval could be reduced in some communities, and so inter-communal wastepaper collection was introduced," said Zöscher.
In cooperation with AWV Mürzverband, .A.S.A. has built the fifth logistics center in Styria on the premises of the waste treatment plant Allerheiligen in Muerztal. "We are looking forward to the new challenge and partnership. With the construction of a new logistics center, we can now offer all waste management services in that region," said .A.S.A. sales manager Manfred Grubbauer.