FCC Zabrze: Foundation stone ceremony for air-tight sealing of the installation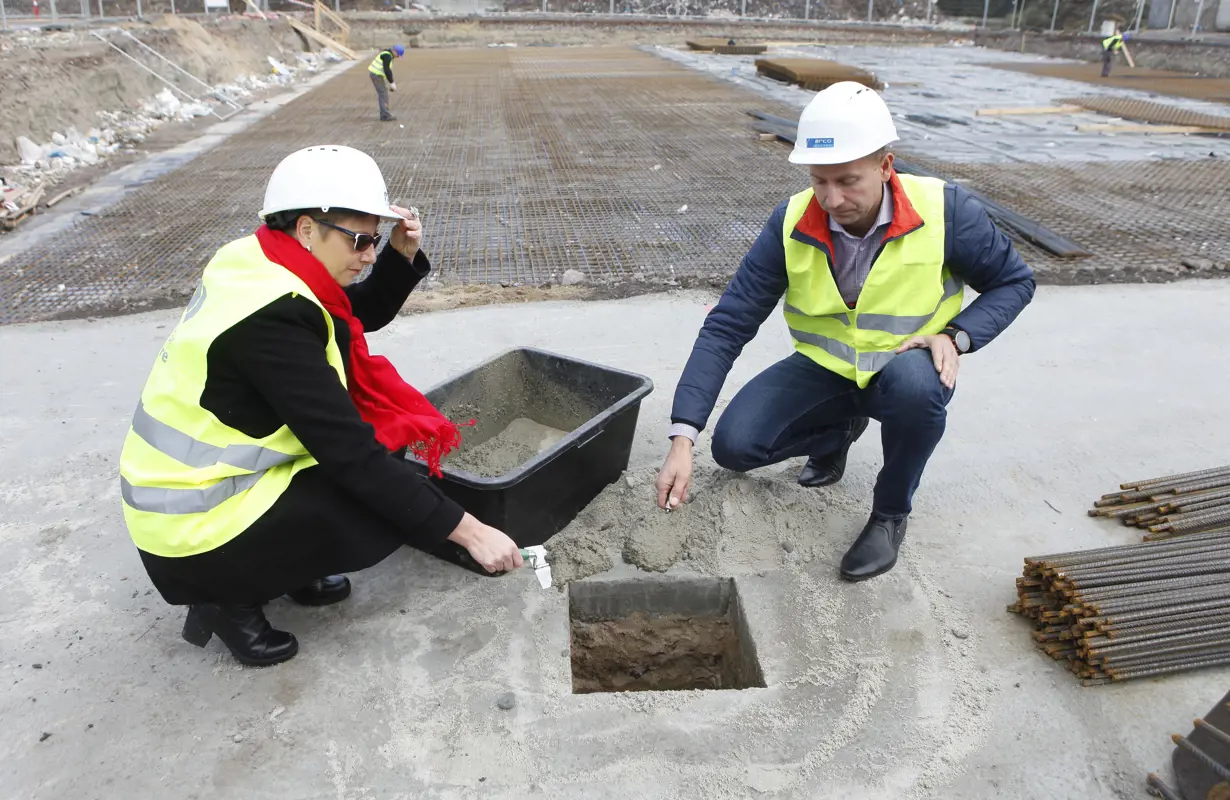 Although less than one month has passed from starting modernization works of biological waste treatment installation at FCC plant in Zabrze, the first milestone was achieved: earthworks were completed. Today a foundation stone ceremony was held for modernization of the biological waste treatment installation, which is a tradition in the construction process.
Foundation stone ceremony is an inseparable part of tradition in the construction process. Today's celebration means that earthworks under operating hall and new ducts have been completed. The next step will be laying foundations. This will be start of the most important and time-consuming phase of the modernization – construction of an air-tight hall where biological processes will take place. This phase is to finish in spring 2019.
The ceremony among others was attended by Małgorzata Mańka-Szulik, Mayor of Zabrze, Björn Mittendorfer, CEO of FCC Environment CEE Group and Paweł Szewczyk, President of FCC Poland.
'Today's ceremony takes place at the moment when earthworks have already been completed. Earlier, among others it was necessary to remove layers of asphalt and foundation, compact ground and make a new foundation. Now, we are starting foundation, lighting and sewers works. It means that the works are conducted according to an adopted schedule and from summer 2019 onwards, waste processing will be performed only in confined areas', says Paweł Szewczyk, President of FCC Poland.
The modernization will maintain the current capacity of the plant and will allow complete air-tight sealing of biological municipal waste treatment process. Apart from new ducts, it will include: a new operating hall, passageway between the new and existing BIODEGMA compost ducts, modernization of the aforesaid ducts and a biofilter, which will be used for cleaning of process air.
Air-tight sealing of the biological process is one of several elements of "Zabrze 2019" project. The aim of the project is to optimize production processes of our plant in Zabrze and thus improve the comfort of life of inhabitants living nearby.
'This day is very important for us, since we can say that there has been a breakthrough. With joint forces of our city and FCC, specific plans were developed and tasks were implemented, thanks to which smell nuisances will be eliminated, says Małgorzata Mańka-Szulik, Mayor of Zabrze.
The project value will be PLN 15 million and it will be fully financed from the funds of FCC Environment CEE Group.