Otpadacite.bg – Waste management goes online!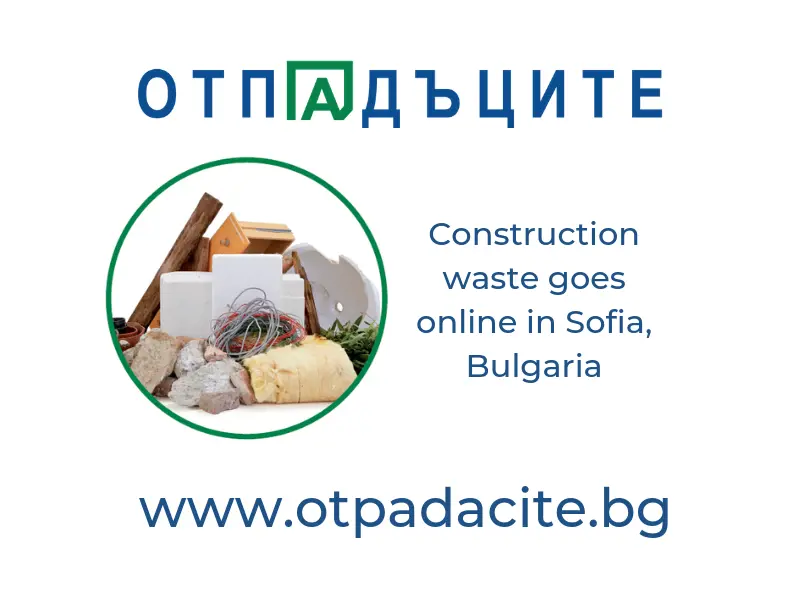 FCC Bulgaria is delighted to announce a new approach to construction waste disposal – simply order your collection online or from your smartphone at Otpadacite.bg. Now available in Sofia only, but will be available in other cities soon.
FCC Bulgaria is one of the leading waste management companies in Bulgaria and has been serving municipalities as well as commercial and private customers for a number of years. During this time the perception of the company as a preferred and reliable partner for professional collection and disposal of waste has quickly grown.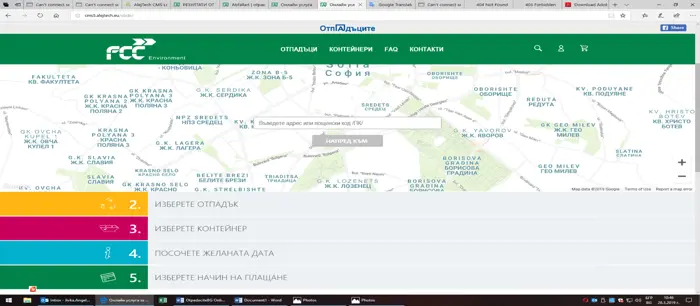 Waste disposal - online shopping style
With Otpadacite.bg FCC Bulgaria has now extended the ordering process for the disposal of construction waste for Sofia's customers into the digital realm. Via the web shop at www.otpadacite.abg or via the smartphone app "Otpadacite" all necessary containers for construction waste can easily be ordered. Customers enter the desired point of placement and preferred date and time, the order-specific fee is calculated and can be payed directly online. After the order has been placed the container is typically delivered and collected on the chosen dates.
The online service is thus similar to many of the well-known ordering processes found in various well known online shops. In this way, FCC Bulgaria aims to make waste disposal easier and more comfortable for customers who can now take advantage of Otpadacite.bg online. FCC Bulgaria's Country Manager, Krassimir Todorov, sums up the idea of the new service: "With this new project we are getting closer to our customers by offering them a quick, comfortable and modern way to dispose of generated construction waste. As an international company, working in the traditional business sector of waste management, we feel a responsibility to implement new technologies and create a transparent, user friendly environment."
For any questions or feedback regarding Otpadacite.bg online and waste disposal in general, customers can contact FCC Bulgaria via phone or e-mail at: otpadacite-sf@fcc-group.bg.
Waste does not equal garbage
An additional aim of the new FCC Bulgaria online service is to raise people's awareness regarding waste and its further use. In the modern world waste should no longer be considered as simple garbage, but rather as a valuable resource for the future. All of the collected waste material is sorted, recycled whenever possible, or responsibly deposited by FCC Bulgaria, and it is Country Manager Mr. Todorov's hope that using the Otpadacite.bg online tool will help customers to realize that they also can make an important contribution to saving resources and preserving the environment through responsible waste disposal.

A logical move towards the future
Today, a significant portion of our modern lives happens online, and most companies and industries have long reacted to the trend offering their services and products on the Internet wherever possible. The field of waste management should not be an exception.
The move into online business is thus the next logical step for FCC Bulgaria. According to Mr. Todorov: "With this new innovative digital mobile approach, we would like to show that new technologies can be used in traditional businesses as well, including waste management." Otpadacite.bg online represents an important move, fully in line with the company's slogan "Services for the Future."
_________________________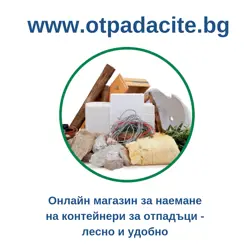 For media inquiries (picture inquiries, press releases, interview requests) and all other media matters, please contact our press/communication department:
FCC Bulgaria – Communication & CSR:
Jivka Angelova
Email: Jivka.Angelova@Fcc-group.bg