"Play clever"–days at kindergarten Himberg
.A.S.A. Abfall Service AG shows preschool children their operations
Easy waste separation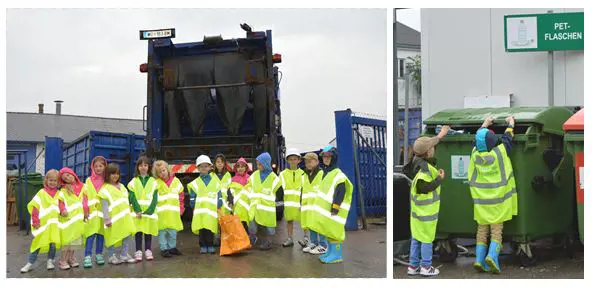 Within the scope of their educational work during the last kindergarten year, 13 inquisitive preschool kids of the kindergarten Schulallee in Himberg had the opportunity to learn more about the operations of .A.S.A. Abfall Service AG as well as the local waste collection site.

Most of the preschool kids were already informed that waste collection is important and that resources can be gained out of various materials. Together, the boys and girls could show their knowledge by separating various materials and placing them in the right containers and bins.

The preschool kids could learn what happens with the materials after they have been collected. .A.S.A. knows well, since last year about 580.000 tons of materials have been sold and furthermore recycled within the .A.S.A. Group.

The "highlight" of the visit was the presentation of one collection truck which was examined carefully by all children.

"The understanding for waste collection and the relevance of resources can be communicated at an early stage and represents an important contribution to our society. Therefore we appreciate the big interest of the preschool kids very much", says Mag. Tanja Calof, responsible for group wide material management at .A.S.A. Abfall Service AG.

Picture: Kindergarden Himberg, Schulallee
Copyright: .A.S.A. Abfall Service AG