Solid growth in 2008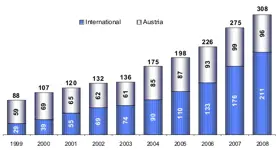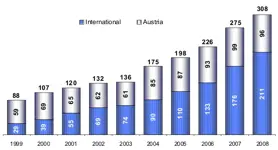 As in the years before .A.S.A. showed a solid growth in 2008:
Revenues increased by 12 % from 275 to 308 million euros out of which 211 million came from .A.S.A. International.
The declining economy in the fourth quarter prevented a stronger performance, nevertheless the management is satisfied especially due to the fact that the development was mostly driven by organic growth in existing markets.
The development of the results reflects this fact.
The .A.S.A. crew increased from 3500 to 4300 employees.

Pic. External Sales .A.S.A. Group cons. in M€