The .A.S.A. company helps to improve the parking service in Znojmo

The company .A.S.A. EKO Znojmo (Czech Republic) has been managing a selection of parking lots in the center of Znojmo since 2001. This year the company is gradually implementing projects leading to the improvement of provided services.
One of the most important changes is the replacement of old parking meters for new modern meters, in addition to the installation of gate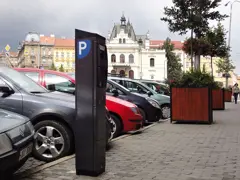 systems at the most busy parking lots and the modification of the system of road signs.
The replacement of parking meters was the first to be carried out, because the previous parking meters had become defective. The new Strada parking meters from the biggest European producer, Parkeon, were installed during July and were put to operation on August 1, 2010. The meters are powered by solar energy and have a most robust construction than the original meters. A key benefit, which is certainly appreciated by drivers, is the large comprehensive display.
What will the new parking system bring to the inhabitants and visitors of Znojmo? "Mainly a partial increase of parking spaces for passenger cars at Liberty square, simplified payment for foreign visitors as the new meters allow payment not only in Czech Crowns but also in Euros, and last but not least a better system of road signs and navigation to the parking lot" says Mgr. Josef Esterka, the company director of .A.S.A. EKO Znojmo.