Vienna has much more to offer than just the Stephansdom or Prater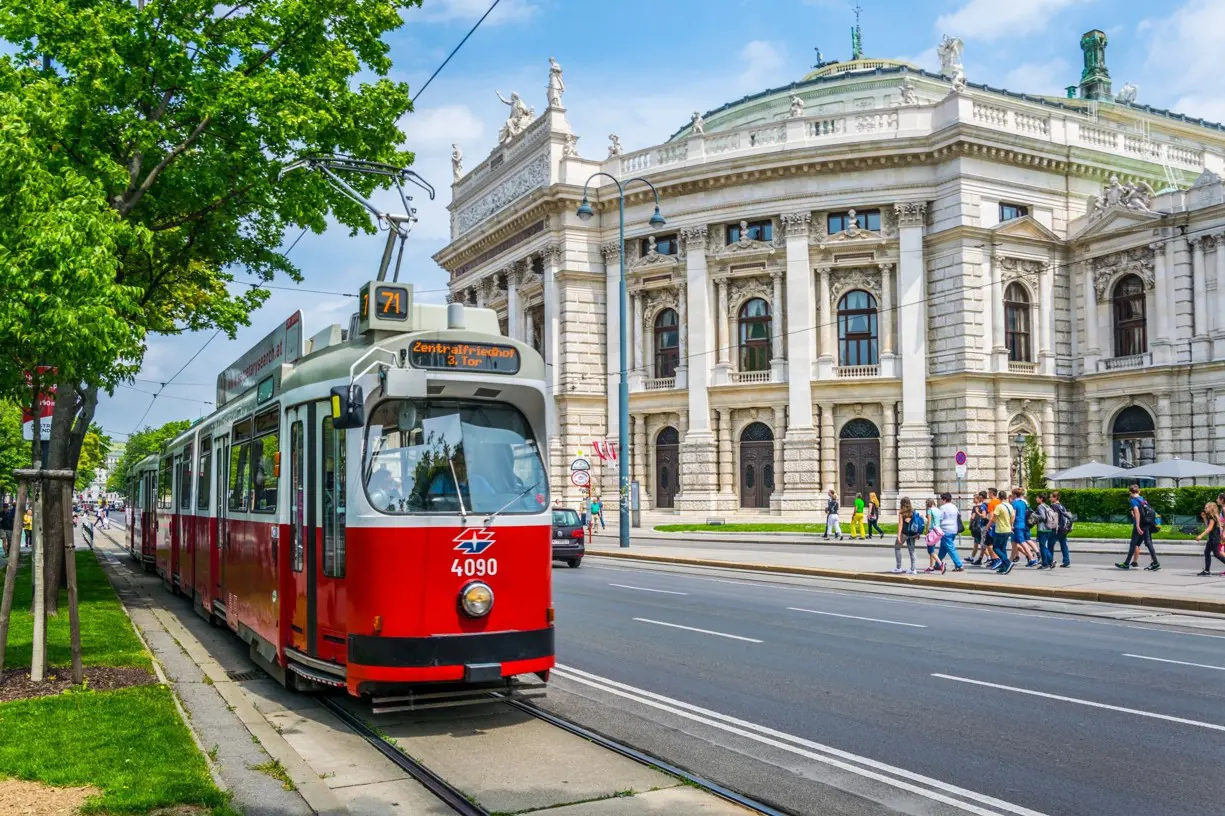 When you say "Vienna", people will likely first think of the city's most famous landmarks; the Stephansdom (St. Stephen's Cathedral), the Prater Funfair or Schönbrunn Palace. Of course, these monuments are some of Vienna's most iconic and amongst the main reasons to visit Austria's capital city, but there's much more besides to see in Vienna, too. In Particular, its Historic Centre - which, amazingly, was only added to the UNESCO World Heritage List as late as 2001.
Hidden treasures around almost every corner
Take a walk through the centre of Vienna and you will feel as if you are truly surrounded by its remarkable history. Its buildings reflect the city's evolution over the centuries, and its characteristically different periods. Whether you're a fan of Gothic, Baroque or Classicism, all of these architectural styles can be found in astonishing proximity to each other.
Schotten Abbey (the oldest monastery in Austria, founded in 1155), the churches of Maria am Gestade, the Michaelerkirche, Minoritenkirche and Minoritenkloster (from the 13th century) and St Stephen's Cathedral (from the 14th and 15th centuries) are all buildings belonging to the Gothic style.
In 1683, Vienna became the capital of the Habsburg Empire and rapidly developed into an impressive, Baroque city. This Baroque character is particularly well expressed in Vienna's grand palaces, including their garden ensembles. Among the most impressive and interesting Baroque gardens can be seen at the Augarten, Belvedere, Schönbrunn Palace Gardens or the Gardens of Schloss Hof. And, you can also witness the majesty of Baroque architecture at Schönbrunn or Belvedere Palace, as well as the Church of St. Charles Borromeo, the Imperial Stables (Museumsquartier), the Böhmische Hofkanzlei building, Palais Auersperg, Palais Dietrichstein, Palais Esterhazy, Palais Fürstenberg, Palais Harrach, Palais Lamberg, the Jesuitenkirche, Rochuskirche, Palais Strozzi, Palais Trautson... and many others.
The Ringstrasse (translation; Ring Road) is a circular grand boulevard that literally serves as a ring road around the historic Innere Stadt (Inner City) district of Vienna, Austria. The road is located on sites where medieval city fortifications once stood, which included high walls and broad open field ramparts (glacis), criss-crossed by the paths that lay before them. Many of its most iconic buildings can be found on this circular road, for example; the Vienna State Opera, the Academy of Fine Arts Vienna, the Palace of Justice, the Austrian Parliament Building, Rathaus (Town Hall), Burgtheater, the University of Vienna, Votivkirche, Wiener Börse (Vienna Stock Exchange) or Urania observatory - named after the Muse Urania, who represents astronomy.
Secret tips
If you are a nature fan then you shouldn't miss the Imperial Butterfly House. In one of the most beautiful Art Nouveau palm houses in the world you enter a fantastic environment of adventure and excitement, populated by one of nature's most gentle and colourful creatures, the butterfly. After your visit enjoy a cup of coffee on the terrace, or in the restaurant in the interior of the 'Palmenhaus'.
Prague, in neighbouring Czech Republic, is famous for its unique astronomical clock, but did you know that Vienna also boasts an Anker Clock? This clock (built between 1911 - 1914) was created in the typical Art Nouveau style and forms a bridge between the two sections of the Anker Insurance Company building. Each and every hour a historical figure, or pair of figures, move across the bridge and at noon all 12 of the figures parade one after another, accompanied by music from their respective eras. During the Advent season there are Christmas carol performances daily at 5 and 6 p.m.
Are you someone who likes climbing stairs?! There are 343 steps to the top of St. Stephen's Cathedral and its viewing terrace. And, if you haven't had enough just yet, then you can try to make it to the top of the Danube Tower as well, via 779 more! Within the city there are plenty more historic stairways to discover, perhaps the most famous of which is the Strudlhofstiege, found in the ninth District of the city. It was built in 1910 and is a beautiful example of Viennese Art Nouveau, with its curved steps and green railings.
Otto Wagner, the pioneering architect of Vienna's Art Nouveau era, was the designer tasked with the construction of the 'Stadtbahn' (a train line built around 1900, which travelled underground in some sections, and elevated above the ground in others). Otto Wagner's Stadtbahn Pavilion, found at Karlsplatz, is a remainder of the old entrance pavilion to the former Karlsplatz Stadtbahn railway station and is particularly elegant with its carefully restored marble slabs and gilded ornamentation.
Just as Barcelona has Gaudi, Vienna is linked to the Hundertwasser phenomenon. His style? Quite recognisable - bright colours, decorations, distorted lines and a desire to be in balance with nature. You can see this artist's dazzling style at the Hundertwasserhaus, Hundertwasser village, Spittelau incineration plant and the KunstHausWien.
Coffee Culture, Schnitzel and Tafelspitz
The cafés on every corner hark back to a different time and are a reminder of the many famous historical figures who once lived in Vienna and frequented these establishments. The unique, no-hurry atmosphere of a Viennese coffee house, where regulars can savour their morning or afternoon cup of coffee, is just as much a part of Vienna's DNA as Sacher cake! And an authentic Vienna Schnitzel, extra-large if that's your thing, made from veal, not from pork or chicken, is a must!
Have you ever heard of, or even been lucky enough to try 'Tafelspitz'? Good-quality beef, root vegetables, aromatic spices and plenty of water to boil it in – these are the vital ingredients of this marvellous dish. Served firstly as a soup, it includes frittata (pancakes) and beef bones (including the treasured marrow inside - which should be spread on toasted bread, with a pinch of salt), and is followed by the delicious pieces of beef accompanied by shredded, fried potatoes (Rösti), spinach and apple-horseradish or dill sauce. Guten Apetit!
FCC Austria Abfall Service AG
The history of FCC Austria Abfall Service AG in Austria dates back to 1988. We are present in 19 locations in Austria where we provide waste solutions for the municipal, industrial, commercial and retail sectors, as well as for private customers.
In Vienna we provide waste removal services for commercial customers, as well as construction sites. Since 2017, one of the most recent services we have been offering is our online shop for container ordering - Abfall Service online.