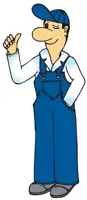 Mr. Popela, Smietko, and Čistunko are friends. They are Czech, Slovak and Serbian. Although they don't necessarily speak the same languages, they understand each other very well and they also understand all of the environmental issues at hand. They can be considered as environmental experts in the countries they represent. From time to time they may have different approaches, but with the same task and background; keeping the environment safe for the future.
This bunch of good guys have answers to all of your questions about waste and environmental behavior and they are always ready to help you with some useful advice. They aren't only experts in their field, but fun and positive members of our team.
You can check who they are and what they can help you with

Enjoy our world with a special coloring page.
Would you like to know something more about waste and waste utilisation?