PET Life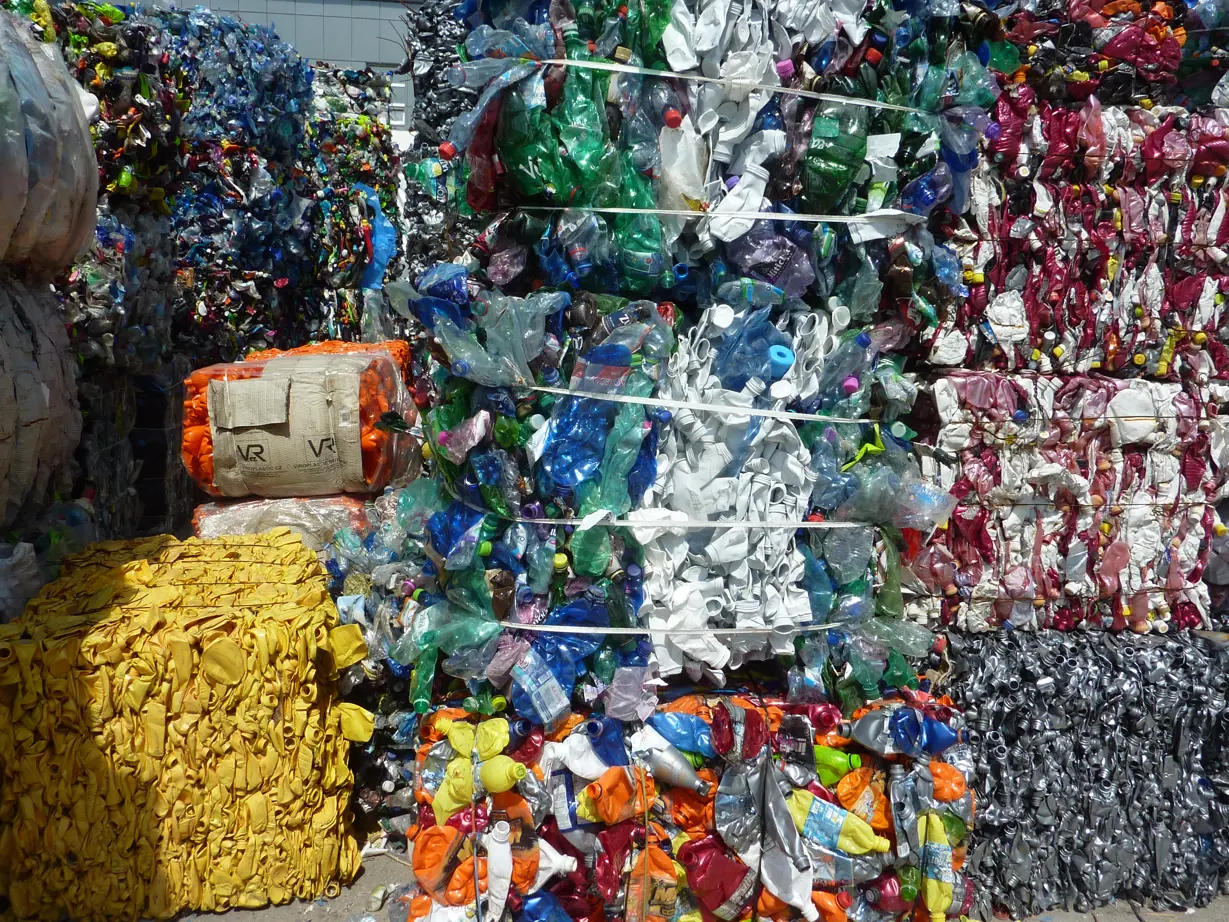 You finish your water from the PET bottle and throw it in the trash. And that's the end of it for you. But did you know that you can meet up with the "same" bottle again, in the same (again as a PET bottle) or another form? Have you ever wondered what happens to the bottles after throwing them in the trash can?
HIGH QUALITY SORTING OF WASTE AS A BASIS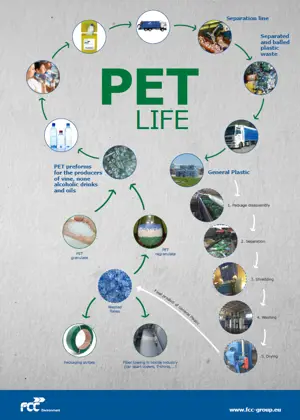 Plastics as well as paper, glass or metals can be recycled. Used plastic materials are very diverse in their properties and applications. Contrary to natural materials such as wood, plastic materials are synthetically produced by chemical conversion of natural products such as crude oil. Of the 16 types of plastics handled by .A.S.A. (FCC Environment CEE), polyethylene (LDPE, LLDPE and HDPE) and polyethylene terephthalate (PET) are the most frequent ones. Various foils such as plastic bags, packaging foils and PET bottles are produced from these types of plastic. Recycling of plastics results in the substitution of limited virgin raw materials (oil and gas) and an 80 to 90% reduction in energy consumption.
But let's go back to our particular bottle. The trash bin (for sorted/unsorted waste) is picked up and transported by FCC Environment (.A.S.A.) or other waste management company to the sorting line. There the plastics are sorted into the following main categories:
PET bottles white/transparent
PET bottles green
PET bottles blue
PET bottles other
Foils
Tetra-pack
Drugstore packaging (washing powders, detergents, shampoos, etc.)
Other

The individual commodities are then compacted into neat bales and prepared for transport to a company that processes plastics. One of these is General Plastic a.s. based in Kolárovo, Slovakia. It is one of the top processors of PET bottles and producers of PET preforms in central Europe. This is the destination of PET bottles not only from Slovakia, but also from Hungary, Czech Republic, Slovenia, Poland, Romania or Serbia. About 900 tons of washed flakes are produced monthly here, making it the main commodity produced at this plant, which also produces PET regranulate and LDPE shrink film (of which around 100 tons are produced from 102 tons of granulate). An input of 1.150 tons of compacted PET bottles is needed to produce this amount of flakes.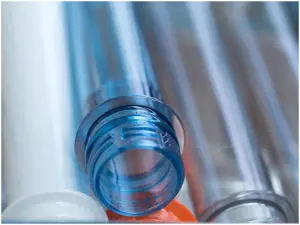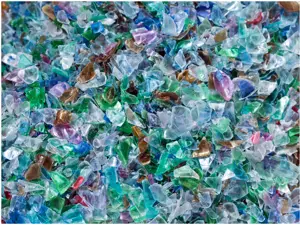 PET preforms Washed flakes
The compacted bales of PET bottles are taken apart here and undergo further separation in the sorting line to eliminate residues that do not belong to the given commodity and would affect the quality of the resulting product, and which could have been mixed in during the initial sorting. The PET bottles then pass through a complicated process of multiple crushing, washing and drying, until they are transformed into the mentioned flakes. These are the basis for the production of PET regranulate, PET preforms for producers of wine, non-alcoholic beverages and oils, packing strips, and fiber used by the textile industry. The original PET bottle receives a new form in this way, thanks to which it is easy to process for further uses and we can subsequently encounter it in the form of final products at virtually every step.
PET BOTTLE – OUR GUIDE FOR THE WHOLE DAY
Your "date" with a PET bottle already actually begins in the morning in bed, since there is a high probability that the mattress on which you sleep contains fibers made from PET flakes. When you are making eggs for your breakfast, you will meet the PET bottle again: the plastic packaging for eggs is also made from flakes. In the winter on your way to work, you have the PET bottle right on your body if you are wearing a fleece jacket. Even here the flakes served as a basis for textile fiber, from which the jacket was subsequently produced. Just for your information, 10 PET bottles = 1 winter jacket.
If you are going to work by car and putting your sports bag in the trunk, for example, you again have your original PET bottle in your hand, because it is contained in the luggage compartment cover. In the office, a PET bottle of water stands on your desk (up to 50% of the inputs for its production are secondary raw materials) and the highlighter you are using also has a "relationship" with your PET bottle.
You cannot get rid of the presence of the PET bottle even at the supermarket. If you buy, for example, cheese or ham, their plastic packaging is also has its base in our PET bottle. In addition, all the goods that are transported on pallets in bulk, whether to super or hobby markets, are for safety reasons tied on with strips made from flakes. "Safety strips are the market of the future", explains Thomas Hinterwallner, Advisor of the Executive Board of Directors from General Plastic. "Their importance is growing on the EU market, where about 100 thousand tons of them are produced and used annually."